'Logos Hope' Sails Following Long Refit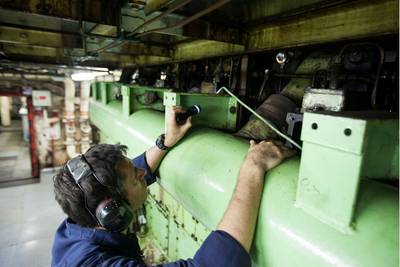 After 8 months maintenance and improvements to prepare the vessel for future service, charitable ship 'Logos Hope' sets sail from Subic Bay, Philippines.

OM Ships International's vessel Logos Hope has set sail from the Philippines for Hong Kong, SAR China following eight months of maintenance and technical upgrades to engine room systems.

"We rejoice in another milestone moment for OM Ships as Logos Hope sails out of Subic Bay," said Peter Nicoll, CEO of OM Ships. "We thank God for the team who so faithfully worked through this period and for the protection and provision we experienced on board."

"Although this upgrading and maintenance of engine room systems has taken far longer than we anticipated, we believe it will stand us in good stead for years to come," Peter Nicoll continued. "We also believe it will make the task of our engineers easier and pray that this will also lead to longer-term commitments from competent engineers."

OM Ships International (OMSI) exists to transform lives by bringing knowledge, help and hope to the people of the world. OMSI pioneered the concept of using ships to transport literature, humanitarian aid and people resources. The organisation's ships are well known for their work providing educational and Christian literature in ports around the world.

Since 1970, over 42 million people have visited the ships during more than 1,400 port visits in 151 nations. People from all walks of life, from presidents and prime ministers to street children and the homeless, have been welcomed on board.

OMSI's operational costs are met by sponsorship of onboard personnel, general donations and gifts, reductions and waivers of fees by civic and port authorities, book sales, and corporate support in each port of call.

Logos Hope is operated on behalf of OMSI by GBA Ships e.V. (formerly Good Books for All), a private, non-profit, entity registered in Germany.