Bahrain's ASRY Lays Foundation as Global Maritime Power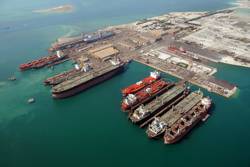 While small in stature at just 760 sq. km. with a population of 1.2 million, the Kingdom of Bahrain, an archipelago in the Persian Gulf just east of and connected by causeway to Saudi Arabia, seeks to grow its stature in the world marine market to become a global maritime and logistics center by 2030. The Arab Shipbuilding & Repair Yard Co. (ASRY), which is central to this success, last month celebrated several key milestones, including the anniversary of its 35th year in business and the opening of its new 1.38km Repair Quay Wall, the cornerstone of the shipyard's $188 million facilities expansion investment program and a signal of the yard's intent to diversify its operations. While the ASRY event was high-profile, including the official inauguration of the new Repair Quay Wall by Bahrain's Deputy King HRH Prince Salman bin Hamad Al Khalifa, the investment in ASRY is just one plank in Bahrain's 2030 strategy which is intent on creating in the Kingdom a Global Maritime and Logistics Center. "Our major objective is to make Bahrain a strategic gateway and shipping hub to the northern gulf, while further strengthening ASRY's role as a major global player in the offshore, offshore repair and other related services to the shipping industry," said ASRY's Chairman, Shaikh Daij bin Salman bin Daij Al Khalifa.
ASRY's Long History
ASRY was created as the first ship repair yard in the Arabian Gulf designed specifically for the dry docking and repair of super tankers, and with a single 500,000 dwt graving dock, ASRY opened for business in 1977. ASRY was originally conceived, and to this day is still owned, by the countries that make up OAPEC (Organization of Arab Petroleum Producing Countries), including Bahrain, Kingdom of Saudi Arabia, United Arab Emirates, Kuwait, Qatar, Iraq and Libya.
ASRY has steadily built its business in the Gulf and its global reputation, but it has not been immune from the cyclical nature of the ship repair business, and has watched ship repair sales suffer in recent years in parallel with the ailing global economy and ship owner's penchant for spending fewer dollars on the upkeep of ships. "I think we have to be optimistic but we have to be realistic," said Shaikh Daij. "The market has not rebounded yet, but it will rebound. Ships must be repaired and maintained."
Despite the recent and prolonged global economic downturn, though, ASRY fared relatively well in 2010, repairing 210 ships and rigs – a record number – compared to 168 the previous year.
According to Chris Potter, ASRY's CEO for nearly two decades, traditionally the shipyard maintains an even keel in its business source, with 50 percent coming from the seven Arab owners of the shipyard; and 50 percent from the international market. In 2010 that ratio was skewed more heavily (65%) to the international business; while this year it has taken a turn (65%) toward Arab owners.
"ASRY was the first ship repair yard in the Middle East and since its inception has established itself as a leader both in the region and internationally," said ASRY's Chairman, Shaikh Daij bin Salman bin Daij Al Khalifa. "I'm delighted to say that the baby of the ship repair industry in 1977 has matured into truly a world leader."
ASRY's original 500,000dwt capacity graving dock today is complemented by two floating docks capable of accommodating vessels up to 80,000dwt and 120,000dwt respectively, two of the largest slipways in the region and 15 repair berths. "ASRY has also moved on from being just a Super Tanker repairer, although VLCC and ULCCs still provide a large slice of the yard's annual workload, and today you will see every conceivable type of commercial vessel undergoing repair, from tugs and offshore support vessels, through dredgers, general cargoships, bulk carriers, and containerships to gas tankers. In recent years ASRY has diversified even further, especially into the offshore oil and gas markets, especially for the repair of jack-up rigs, and into the technically demanding naval repair sector," said Shaikh Daij. "ASRY is truly a world-class 'one-stop-shop' for owners' repair and maintenance requirements."
In addition to routine repair, ASRY looks to the refit business coming with the adoption of Ballast Water Treatment (BWT) systems, a market demand that is estimated at 39,000 ships in the next five years, to help smooth the traditional troughs inherent to the ship repair industry.
Today ASRY is much more diversified then when it opened shop in 1977. While ship repair remains its staple, it today has built strong additional business lines including: the repair of military ships, notably garnering a significant share of U.S. Navy ship repair business in the region; expanded of its ASRY Offshore Services (AOS) and efforts to service the region's burgeoning offshore oil and gas business on both the rig and offshore service vessel sides of the business, via the aforementioned Repair Quay Wall and 200,000 sq. m of offshore fabrication and load-out area; and ASRY recently announced a Joint Venture with U.K.-based Centrax to design and build a new line of power barges to serve growing power needs in developing countries globally.
The New Repair Quay Wall
ASRY's new 1.38km Repair Quay Wall is located north east of the existing yard in an area known as the ASRY Basin, and will essentially fast-track the company into the lucrative outfitting and repair of offshore structures. The Quay Wall was designed by the UK's Royal Haskoning and built by Nass Contracting. With an alongside water depth of 12m, the new facility is capable of accommodating three 300,000 dwt vessels simultaneously. Craneage, when installed in March 2012, will comprise two level-luffing cranes, running on rails, designed and built by Germany's Ardelt. The cranes, of the company's Kranich range of single-jib cranes, are lightweight, flexible units, offering extremely low maintenance and tailored for the demanding requirements of shiprepair as well as offshore rig repairs and installation work. One of the cranes will be a Kranich 1000-47, the other a Kranich 1000-28, both with a maximum lift of 30 ton swl.
ASRY's facilities expansion program is not just about the new Repair Quay Wall. The investment also includes the construction of a 200,000 sq. m. hard standing offshore fabrication area, with load out quay. "There is a lot of competition for small (offshore) vessels in the Gulf, and it takes significantly more marketing, but it is starting to pay off," CEO Potter said.
Power Barge Business
In an attempt to further expand its business lines to help smooth the curves of the ship repair market, ASRY earlier this year joined forces with UK-based power generation packaging specialist Centrax, to form a joint venture company ASRY-Centrax Ltd., a joint venture that will to design and build Power Barges. ASRY has designed the barges itself, and will build them on its two large slipways. ASRY-Centrax's initial offering is the TPB125, a self-contained modular electricity generating system which features a pair of Rolls-Royce Trend gas turbines together producing 125MWe, and individual barges can be linked together in multiples and supplied with a a tanker barge or barges configured for the storage of liquid or LNG fuels. Particular care has been paid to ensuring the environmental aspects of the operation, and the barges are designed with double skin fuel and oil tanks, as well as an 80 dBA at one meter sound attenuation.
Prospects for the power barge business are expected to grow rapidly, particularly in developing nations where it is increasingly difficult to insure and finance land-based structures due to the possibility of insurrection attack. Placing the power station on barges offshore helps to transform the economics of the power project, as the system is further from harm's way, and can be pulled out altogether in the face of real danger. To accommodate the needs of developing countries, the 125 MWe system size was chosen as optimal primarily because it enable a relatively shallow draft (2.6 m) barge, enabling it greater lanes of access when dredging is not practical or possible. While company officials were hesitant to provide a global projection for the business in terms of power or pricing, they did admit that a particular Nigerian developer is mulling the acquisition of "double digit" numbers of barges, and world areas such as the rebuilding of Iraq will present opportunities.
Depending final outfitting, particularly the inclusion of key security elements, night vision and helidecks, for example, the 125 MWe power barges will sell for between $100m and $125m.
Bahrain's Port Expansion
The recent opening of the Khalifa Bin Salman Port (KBSP) is a modern container port operated by APM Terminals, and another plank in Bahrain's drive to solidify it as a global maritime hub. In particular, it is seen as a potential hub of transport to the region, particularly for destinations in the Upper Gulf.
The Khalifa Bin Salman Port (To date the port handles about 340,000 TEU per year (including a call recently from the largest containership to ever call Bahrain, the 7500 TEU APL Portugal) with a capacity for 1.1 million TEU, and the ability to expand on the current location to more than 2.5 million TEU/yr. should conditions prove right for expansion.
While business demand has not yet materialized, it is envisioned that the region is poised for rapid near and long-term expansion, driven by a resurgent boom for offshore oil and gas business, and also for the continued reconstruction of Iraq. While KBSP continues to expand, there are a number of additional port and infrastructure projects in the country that are designed to provide an overall positive impact, including:
•
the construction of a 25km causeway that will connect Bahrain with Qatar;
•
the construction of an LNG terminal;
•
the construction of a building materials
terminal at the old port facility; and
•
deepening of its navigation channel to 15m.
Future Growth
ASRY's growth plan for the future will not diverge much from its steady, conservative plan since its inception 35 years ago. "We are ready for opportunities when the time is right," said said ASRY's Chairman, Shaikh Daij. "It's all about market conditions and timing. The market conditions today are not optimized for us to expand, as ship repair sales are down while the offshore business is up."
While he would not supply specific details on what, exactly, would constitute the 'right' conditions, he did admit that the organization is consistently evaluating opportunities in the region and abroad.
ASRY's Repair Facilities
Dock 1 (Graving Dock)
Length o.a keel blocks
375m
Maximum depth above keel blocks
8.85m
Maximum crane capacity
100 tons
Maximum size of ship
500,000 dwt
Dock 2 (Floating Dock)
Length o.a. keel blocks
235m
Clear width between wing walls
44m
Maximum depth above keel blocks 9.7m
Maximum crane capacity
12 tons
Dock lifting capacity 33,000 tons
Maximum size of ship
120,000 dwt
Dock 3 (Floating Dock)
Length o.a. keel blocks
210m
Clear width between wing walls
40m
Maximum depth above keel bocks
9.7m
Maximum crane capacity
12 tons
Dock lifting capacity
30,000 tons
Maximum size of ship
80,000 dwt
Slipways
Maximum length between blocks
140m
Maximum size of ship
to 5,000 tons displacement
Four New Shipyard Tugs to be Delivered
ASRY does not engage in the construction of new vessels, as its CEO Potter put it succinctly: "It is very simply, really: We have found that there has been more money to be made repairing ships and rigs than building them." But it does build for its own account, and today it is building a series of four new tugs, delivering the first at the end of 2011. The tugs are a design from Singapore's SeaTech Solutions International, with a materials package provided by Singapore's Pacific Ocean Engineering & Trading (POET). They replace the yard's aging fleet of six 32-ton bollard pull tugs, which have been in service since 1977.
The tugs meaure 25.8 x 9 x 5m with a molded draft of 4m, and feature Azimuth Stern Drive (ASD) generating a bollard pull of 40 tons with speed, at half load, of 11 knots. While the four boats were designed for docking and berthing operations within the shipyard, they are also able to perform coastal offshore towing operations. They feature a compact deckhouse placed well inboard, with spacious aft and fore decks. The wheelhouse provides a 360 degree view, while sky windows are fitted for enhanced ship handling operations. The hull is constructed of a double chine design with inclined transom stern and tapered bow. A double-plate skeg provides for good directional stability. The tugs have a low air draft, enabling them to provide assistance to highly raked ships when docking and undocking, as well as maneuvering under mooring lines. The hull is divided into four watertight compartments, while a heavy sheer strake around the hull, coupled with cylindrical fenders at the bow and the stern, provide for enhanced hull protection. Towing bits are located forward and aft, plus a combined hydraulic anchor/towing winch on the foredeck. Propulsion is via two Schottel SRP 1010 CP steerable rudder propeller units with CP inward rotating propellers in nozzles driven by two 1,324kW Yanmar 8N21 resiliently-mounted diesel engines, via cardan shafts, flexible couplings and clutch. Auxiliary machinery comprises two 99kW Volvo Penta diesel generators and two 20 cu. m./hr. bilge pumps. Each tug has accommodation for a crew of eight.
(As published in the January 2012 edition of Maritime Reporter & Engineering News -
www.marinelink.com
)