France Sees Quick Accord on STX, Sees Naval Deal Taking Longer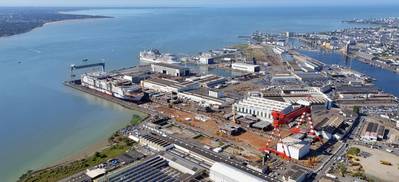 France hopes for agreement over the future of the STX France shipyards at a Franco-Italian summit on Sept. 27, but a separate deal on warship co-operation would take longer to negotiate, French Finance Minister Bruno Le Maire said on Thursday.
"I would like us to have an agreement between the French and Italian governments on STX for the summit on September 27," Le Maire told reporters after a meeting with suppliers in the aerospace sector.
"On Naval Group and Fincantieri, these are much longer-term proposals."
France clashed with Italy in July after ordering a "temporary" nationalisation of STX, cancelling a deal in which state-owned Fincantieri and
another Itali
an investor had agreed to buy a 54.6 percent stake.
France took the decision after Fincantieri, which had agreed to buy the majority stake from its former South Korean owners, refused a
French government proposal
to accept 50-50 ownership.
France has proposed extending co-operation to the field of naval defence, in which its Naval Group military shipyard, formerly known as DCNS, is an important player.


(Reporting by Tim Hepher, Leigh Thomas, Editing by Sarah White)