Wrecked LPG Freighter Removed from Taiwan Strait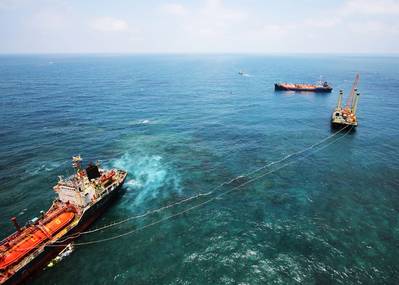 Following four months of challenging operations and weather delays, RESOLVE Salvage & Fire, (ASIA) Pte Ltd. has announced completion of the wreck removal of the freighter LPG OBERON from the Taiwan Strait.
The Oberon, loaded with volatile Liquid Petroleum Gas (LPG) 1- Butene, had grounded and sustained extensive hull damage early this year, seven miles from the Penghu archipelago and 30 miles northwest of Kaohsiung, Taiwan.
RESOLVE's salvage plan was favored by the owners and underwriters because the wreck removal proposal included the task of first removing the hazardous LPG cargo, an environmentally sound approach that involved transfer of the gas to another LPG carrier before the wreck removal operation could begin. Initially, there were many areas on the wreck where RESOLVE teams worked in lower explosive level (LEL ) conditions. Until the leaking LPG was entirely removed from the vessel tanks, Oberon posed a threat of explosion and severe environmental damage to the ecosystem and reefs as well as local populations and fishing villages in the vicinity of the wreck.
Both the LPG removal and wreck removal operations were delayed throughout the 88 -day operation by nine typhoons which passed through the region. Upon completion of the LPG removal, RESOLVE proceeded to dismantle the vessel, remove the LPG tanks intact and then cut up the vessel and remove the wreckage from the Taiwan Strait. The wreckage and the salvaged LPG tanks were taken to Tongliang Yard in Penghu, for scrap and sale respectively.