Frontline Posts Q3 Loss as Tanker Rates Hit 4-year Low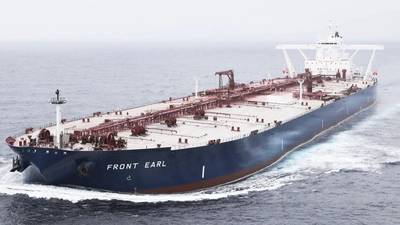 Frontline q3 net loss $‍24.1​ million.
Frontline q3 operating loss $‍​5.4 million (reuters poll loss $9.2 million)
Says loss is primarily due to weak average spot daily time charter equivalent ("TCE") earnings achieved by its fleet and a $5.8 million loss on the termination of the charter of Front Ardenne
Says Q3 vessel rates were at weakest level since 2013
Says we are at the bottom of the cycle, and this is reflected in rates and asset prices
Rates have partly recovered in Q4 vs Q3
Says impact of significant fleet growth over last two years was felt across industry and is reflected in results for q3​
Due to the net loss attributable to the company in the third quarter, the board has decided not to pay a dividend for the third quarter‍​
Says will continue to execute strategy of fleet growth and renewal
The growth in crude tanker tonne-mile demand is forecasted to remain strong due to increasing underlying demand for crude oil from areas that are geographically dislocated from incremental sources of supply
Additionally, global crude inventories are declining after reaching peak levels last year, and the oil market is showing signs of recalibrating
The current crude oil tanker rate environment does not presently reflect that strong demand. This is mainly due to the increases in the size of the global crude oil tanker fleet we have seen over the last two years, which is expected to continue into next year
Shares down 4.8 pct at 0840 GMT vs fall of 0.3 pct in Oslo's benchmark share index.
Reporting By Joachim Dagenborg and Ole Petter Skonnord