Incat Crowther to Design New Generation Rocket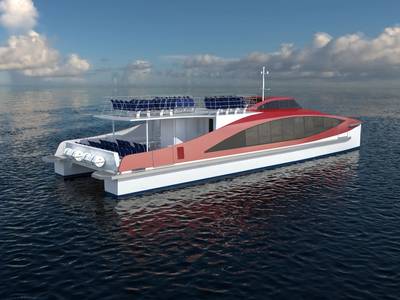 Incat Crowther has worked closely with Sealink to develop a vessel that offers exceptional value to the operator with tangible measures taken to reduce both capital investment and running costs. In addition to low fuel usage, machinery selection and systems design has focused on reducing ongoing maintenance costs.

The vessel will feature a main passenger cabin with seats for 116 passengers. A further 31 seats are located on the aft deck. Toilets are located adjacent to the stairs to the upper deck. Large hinged engine hatches provide ample access to the engine rooms for day-to-day maintenance tasks.

Boarding gates are located on the foredeck, with particular attention paid to the visibility of these from the wheelhouse. Behind the wheelhouse, an open upper deck has seats for 51 passengers, with ample space for passengers to stand and view the sights.

The vessel will be certified to carry 127 passengers in coastal operation and 198 passengers in harbour operation.

Powered by a pair of Scania DI13 070M main engines, the vessel will operate at a loaded service speed of 22 knots, with a top speed of 24knots.

Incat Crowther and Sealink said the vessel offers cutting edge design, low fuel consumption and increased capability for Sydney Harbour operator, Captain Cook Cruises.