Genting HK Orders 10 Cruise Ships Worth $4 bln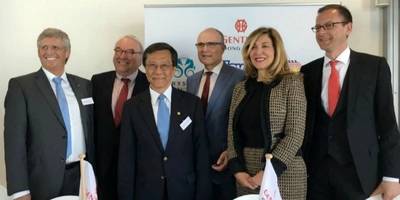 Genting Hong Kong, a unit of Malaysia's gaming giant Genting, is building 10 cruise ships worth 3.5 billion euros ($4 billion) in anticipation of higher demand from the Chinese market.
Genting has signed an order for 10 ships with the Lloyd Werft Group, comprising two mega cruise ships for Star Cruises and eight vessels for Crystal Cruises.
"We are focused on delivering a world-class vacation experience for Chinese cruise passengers," said Genting and Genting Hong Kong Chairman Lim Kok Thay.
The signing ceremony was attended by Uwe Beckmeyer, State Secretary of Maritime Affairs, Erwin Sellering, Prime Minister of the State Mecklenburg-Vorpommern and Martin Günthner, Senator for Economics and Port Affairs of Free Hanseatic City of Bremen, Tan Sri Lim Kok Thay, Chairman of Genting Hong Kong.
The two mega cruise ships will be among some of the world's largest and will be built for Genting's Star Cruises brand and deployed in the Chinese market. The 201,000 ton vessels will be known as Global-class and will include 5,000 lower berths each.
The eight other vessels will be built for Crystal Cruises and comprise of 6 river cruise ships, an expedition yacht and an "Exclusive Class" vessel.
Delivery of the Global-class vessels is scheduled for 2019 and 2020.
Lloyd Werft Group was formed last month with Genting's acquisition of
Nordic Yards
' three shipyards in Wismar, Warnemunde and Stralsund,
Germany
. Prior to the acquisition, Genting only had the Lloyd Werft shipyard in Bremerhaven.
The formation makes it one of just four shipbuilding groups with the ability to build large cruise ships using the two large covered dry docks in Wismar and Warnemunde.
"We are pleased that Genting chose Lloyd Werft Group for the construction of their new vessels as the company has built all but one of its new cruise ships in Germany for the Star, Dream and NCL brands due to the company's desire for quality-built cruise ships," says Rüdiger Pallentin, the Managing Director of Lloyd Werft Group.
Genting Hong Kong pioneered year-round cruising in Asia 23 years ago with Star Cruises and later acquired the Norwegian Cruise Line to become the third largest and most profitable cruise line on a per berth basis in the US.
Genting Hong Kong's stable of brands include Crystal Cruises for the international luxury cruise market, Dream Cruises for the Asian luxury cruise market and Star Cruises for the contemporary cruise market.