Southwest Alaska Pilots Order Gladding-Hearn Pilot boat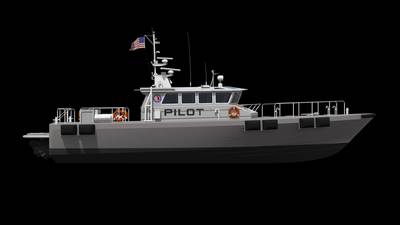 The Southwest Alaska Pilots Association in Homer, Alaska has ordered a new pilot boat from Gladding-Hearn Shipbuilding, Duclos Corporation. Delivery is scheduled for 2018.

With a length overall of 75.7', beam of 20.6' and draft of 3.11', the all-aluminum Galveston Class pilot boat features the C. Raymond Hunt-designed Deep V hull. It will be powered by twin Cummins QSK38-M1, EPA Tier 3 diesel engines, each delivering 1,400 Bhp at 1,800 rpm and connected to twin ZF-5000 gear boxes. The launch will be propelled by a pair of Hamilton HM651 water jets. Top speed is expected to reach 28 knots. A Humphree interceptor, with automatic trim optimization, is installed at the transom. Two Cummins Onan 29kW generators will produce electricity.

The wheelhouse, flush-mounted to the deck amidships, features forward-leaning front windows, each fitted with retractable solar blinds. It will be outfitted with six Llebroc seats, a settee, berth, and a small galley behind the helm station. An eight-camera LCD CCTV system will be installed in the wheelhouse, with four cameras mounted in the engine room, two cameras in the jet room and two on the aft deck. The forecastle will include two staterooms, head with a shower, dressing area and hanging lockers. Interior sound levels at full power will be under 74 dBA.

A multi-zone hydronic system will provide heating and air conditioning to the wheelhouse, forecastle and engine room. Two resistance heaters will be installed in the jet room.
Outside of the wheelhouse, the roof, main deck, and all of the handrails will be heated by a hydronic deck heating system. The vessel will be provided with a handheld remote for use of port and starboard hydraulic rescue davits.