GoodShipping Program Becomes First Fossil-Free Sea Cargo Transportation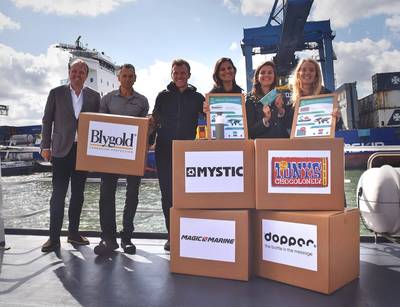 The GoodShipping Program, which claims to be the world's first global initiative established to decarbonise shipping through the use of sustainable low carbon marine fuels, has announced that five pioneering shippers are the first to save CO2 emissions through the scheme.

The delivery of advanced, sustainable marine fuel by GoodFuels Marine means that the shippers participating in the inaugural program – Tony's Chocolonely, Dopper, Blygold, Magic Marine and Mystic – collectively reduced their carbon footprint by over 40 tons.

"In collaboration with our partners GoodFuels Marine and Samskip, the bunker operation was a great success. The 'Samskip Endeavour', a container vessel that carries over 800 containers and normally runs on a combination of fossil fuels like Heavy Fuel Oil and Marine Gas Oil, was bunkered with 22.000 litres of Hydrotreated Vegetable Oil made from used cooking oil," a statement from the company said.

This volume of fuels corresponds with the annual sea freight volumes of GoodShipping's customers. The biofuels are supplied by GoodFuels Marine and will replace the equivalent volume of Heavy Fuel Oil, it said.

The five shippers can also claim to have significantly reduced local emissions of Sulphur Oxide (SOx), Nitrogen Oxide (NOx), and Particulate Matter (PM). When combined, emissions of these substances from vessels in port regions lead to over 60,000 premature deaths globally each year, according to researchers from the University of Delaware.

"With this first bunkering, GoodShipping shows that it is possible for cargo owners to influence the carbon footprint of the sea freight in their supply chain. Thanks to the principle of mass balance, any company can join our program and have their sea freight shipped climate-neutral. Next to that, we are increasing demand and accelerating R&D in the field of marine biofuels," it added.

The GoodShipping Program requires shippers to commit to a reduction in their sea freight CO2 emissions.

The initiative works on the premise that, as all CO2 from container shipping is emitted into the same atmosphere, the means of mitigating these emissions is equally impactful, regardless of which vessels adopt biofuels over traditional bunker fuels – or the amount of 'drop in' biofuel that is added to the fuel tank, as long as it offsets the CO2 costs of transporting participating shippers' cargo.