FPSO Wins Korea Government Award for HHI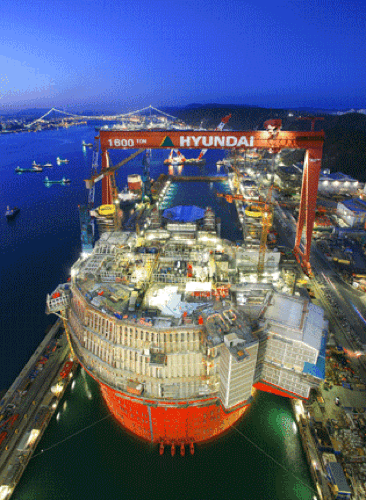 Hyundai Heavy Industries (HHI) which claims to be the world's largest shipbuilder, says it has gained an additional 'World Class Product' certificate from the Ministry of Trade, Industry and Energy for its cylindrical FPSO.
The newly certified 'World Class Product' is a cylindrical FPSO: the Goliat FPSO ordered by Eni Norge will be installed in the Goliat field, 85 km northwest of Hammerfest, in the Barents Sea.

This cylindrical floater is designed to store 1 million barrels of crude oil, and 4 million standard cubic meters of gas per day. It measures 112 m in diameter, 75 m tall and weighs about 53,000 tonnes.

HHI explains that 'World Class Products' ia feature of Korea's Ministry of Trade, Industry and Energy selects products that have over 5% global market share, rank within the Top 5 in their market, and have an international market worth over USD 50 million with exports of USD 5 million annually.