U.S. Merchant Marine Academy Graduates 219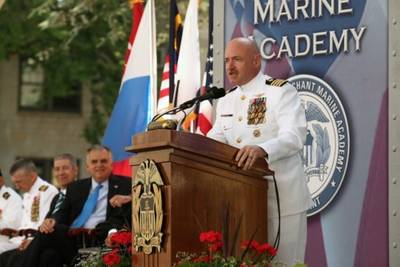 The U.S. Merchant Marine Academy (USMMA) has awarded degrees & licences to 219 new potential leaders in the mercantile marine
Captain Mark Kelly, Class of '86 and a former NASA astronaut, gave the commencement address before a crowd of more than 2,000 graduates, family members and representatives from the federal government, Armed Forces and maritime industry.
"However today's graduates choose to continue serving their country, I'm certain that Captain Kelly's remarkable life story will be an inspiration to them all," said U.S. Transportation Secretary Ray LaHood. "I am extremely proud of these new leaders who will serve our nation with honor and a commitment to excellence."
The congressionally-nominated graduates received a Bachelor of Science Degree and government-issued merchant marine officer license that will help ensure a steady stream of merchant marine officers to support the nation's economic and security interests.
This year's graduates represent 37 states and the four foreign countries of South Korea, Malaysia, Panama and Singapore. Unlike students at other federal academies, the USMMA graduates have the option of joining the Naval Reserves and working in the seagoing merchant marine and transportation industry, or applying for active duty in any of the Armed Forces. Based on Academy estimates, 21 percent of the 2012 graduates will serve in active military duty and more than 67 percent will be employed on board commercial and navy ships.