Grande Ghana Maiden Voyage, Port of Hamburg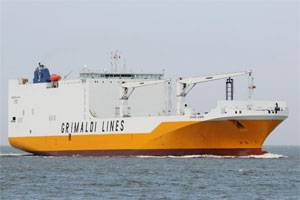 At the beginning of this week a ConRo vessel of the shipping company Grimaldi Lines was handled in Hamburg for the first time on its maiden voyage. This third new addition to its regular service between Hamburg and the West African ports shows the Grimaldi company strengthening its commitment to this route. 'Our recently commissioned ConRo ships will be serving the West African ports of discharge with greater frequency. We accept all types of cargo on all vessels serving in West African transport,' said Dirk Peters of Grimaldi Germany on the occasion of the Grande Ghana's visit to the Hamburg's Unikai Multipurpose Terminal.

Services offered by Grimaldi:
Central Express: departures from Hamburg with six ConRo ships of the GRANDE class, now every six days. Ports of discharge are Dakar, Tema, Lagos, Abidjan and Cotonou / Lome (at 12-day alternating intervals)

Southern Express: departures from Hamburg with four ConRo ships, now every eleven days. Ports of discharge are Dakar, Luanda, Douala and Pointe Noire (on alternate trips)

Northern Express: departures from Hamburg with six ConRo ships (four of the Grande class and two of the Republica class), every nine days. Ports of discharge are Dakar, Freetown, Conakry and Banjul (on Grande class trips). This service goes on to visit the eastern seaboard of South America.

Further cargo services may be provided as required every 16 days to Boma and Casablanca, every two to four weeks with RoRo ships of the Grande class to Cotonou and Luanda and, when sufficient demand exists, to Lagos and Lome and from March 2009 to Lobito as well.

The Grande Ghana has a length of 692 ft, a width of 106 ft and a maximum draught of 31 ft. When loaded to full capacity it can carry 1360 TEU. The loading decks offer 8,202 ft of space for wheeled cargo. Additional general cargo of the order of magnitude of up to 200 tons can also be accommodated on deck. The Grande Ghana is the second of a total of seven new ConRo vessels commissioned by Grimaldi and built at the Uljanik dockyard in Croatia.

The main imports to the Port of Hamburg from West Africa are raw cocoa, wood and timber products, green coffee, rubber and cotton. The principal classes of goods exported from Hamburg include vehicles, plant and machinery, electrical products, used textiles and chemical products.