Great Lakes Iron Ore Trade Dips in June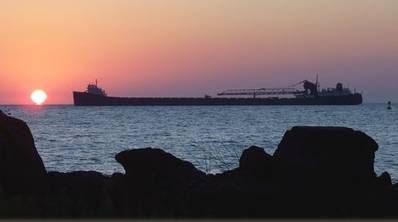 Shipments of iron ore on the Great Lakes and St. Lawrence Seaway totaled 6.2 million tons in June, a decrease of 6 percent compared to May, and nearly 5 percent below the level of a year ago, the Lakes Carriers' Association (LCA) announced.

Loadings at U.S. ports totaled 5.5 million tons, a decrease of 7 percent compared to a year ago. Shipments from Canadian ports in the Seaway totaled 695,000, an increase of 19 percent, but in terms of tons, the trade rose perhaps five cargos for the month.

Through June, the Lakes/Seaway ore trade stands at 21.1 million tons, an increase of 10 percent compared to a year ago. However, when compared to the five-year average for the first half of the year, the trade is off by 10 percent. Comparisons with the long-term average clearly illustrate how the severe ice conditions that prevailed on the Lakes from early January to late April of this year have impacted cargo movement, LCA said.

Given that Great Lakes shipping is the nation's raw materials lifeline, both houses of Congress are addressing the need for more U.S. Coast Guard icebreaking resources on the Lakes, LCA said. The House's Coast Guard Authorization bill authorizes the Commandant to design and build a new icebreaker for the Lakes. The Senate's FY16 Homeland Security Authorization Act, once enacted, directs the Coast Guard to study if its icebreaking resources are adequate to perform that mission on the Great Lakes.