Greece's Box Ships Stays the Course in FY 2013 Despite ...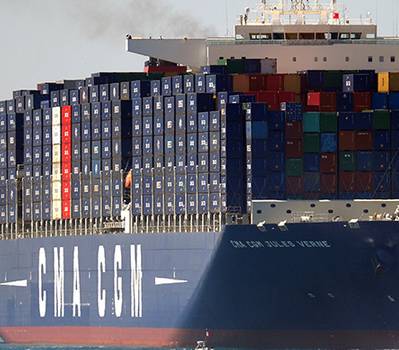 Container ship owners Box Ships announce its financial results for the fourth quarter and year ended December 31, 2013, showing an increased EBITDA in the past year. Excerpts as follows:
Adjusted EBITDA was $42.087-million in year 2012 which rose to $47.209-million in 2013.

Mr. Michael Bodouroglou, Chairman, President and Chief Executive Officer of Box Ships Inc., commented:
"The fourth quarter of 2013 was a challenging one, despite being our eleventh consecutive profitable quarter as a public company. The containership market continues to be pressured by the extended weakness in Europe and the United States, and charter rates have continued to decline during the fourth quarter.

The Box Queen, formerly known as the Maersk Diadema, was redelivered to us upon expiration of its time charter with Maersk and was subsequently rechartered to MSC at a rate that was $21,900 per day less than its previous employment.

The CMA CGM Kingfish and CMA CGM Marlin have both extended their charters with CMA CGM for a period of four to seven months at a rate which is $16,000 per day less than their previous employment.
This continued decline in rates, coupled with the fact that we have another vessel employed at a charter rate well above the current market levels expiring in 2014, has caused the Board of Directors to refrain from paying a common stock dividend with respect to the fourth quarter of 2013 in an effort to maintain our liquidity and ensure the sustainability of the Company going forward.

The Board of Directors will continue to evaluate the market conditions at regular intervals to consider a potential reinstatement of the common stock dividend when the market recovers, as we remain committed to our policy of paying out excess free cash flow in the form of dividends."

http://www.box-ships.com