Reef Grief for USN Ship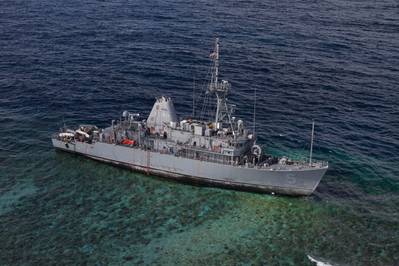 The mine counter-measures ship 'USS Guardian' (MCM 5) still sits on the Tubbataha Reef.
Operations to safely recover the ship while minimizing environmental effects are being conducted in close cooperation with allied Philippines Coast Guard and Navy.
Prior to leaving port in Subic Bay, Guardian canceled a scheduled fuel stop to Puerto Princesa, thus the Guardian departed Olongapo City en route to Indonesia and was transiting the Sulu Sea when the grounding occurred at approximately 2:25 a.m. Thursday, 17, January.
Based in Sasebo, Japan, the Avenger-class mine counter-measures ship remains stuck on Tubbataha Reef's south atoll, approximately 80 miles east-southeast of Palawan Island.

The U.S. Navy is undertaking an investigation to determine the exact cause of the grounding.

US Navy photo by Naval Aircrewman (Tactical Helicopter) 3rd Class Geoffrey Trudell