Hamburg Süd: Good Year in 2010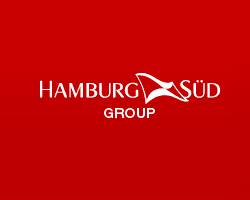 Following the historic crisis year of 2009 and a first-time ever decline in global transports in container liner shipping, 2010 saw an unexpectedly sharp volume rise.

Hamburg Süd, too, benefited from a resurgent world economy along with her Brazilian sister company Aliança as well as the tramp activities operating under Rudolf A. Oetker (RAO) and Furness Withy Chartering. Shipment volume in the container liner services last year came to roughly 2.9 million TEU (1 TEU = 20-foot standard container), equivalent to a gain of 23 per cent on 2009.

As, in addition to volumes, freight rates recorded a moderate recovery, turnover in liner shipping added a good 45 per cent to just under EUR 3.9 billion. With the inclusion of conventional break-bulk and product tanker operations, the shipping group's total turnover increased to some EUR 4.4 billion, 39 per cent up on 2009.

Even in the difficult year of 2009 employee numbers in the Hamburg Süd Group had seen little reduction, so that the powerful growth in business volume in the reporting year could be handled with a rise in the total workforce of just 1.3 per cent. An average of 4,099 staff were employed in the Group in the 2010 financial year. Taking account of trainees, and the seamen serving on the Group's vessels under third-party hire, the number of employees totalled 4,870, a rise of 1.6 per cent compared with 2009.

After the shipping division had been forced to accept a slight loss for the first time in 2009, it succeeded in achieving a pleasing result again in 2010. Operational cash flow increased significantly in comparison with the previous year, enabling capital spending – which also enjoyed a powerful boost to EUR 429 million – to be financed from the company's own resources.

Vessels and containers

As of 31 December 2010 the fleet operated by the Hamburg Süd Group comprised a total of 169 vessels, 40 of them Group owned, with 113 employed in the liner services and 56 in the tramp division. As a result of strong cargo growth and very favourable charter rates, above all at the start of the year, additional ships were chartered in and owned capacities further built up as planned. Slot capacity of the container ships deployed in the liner services rose by 22 per cent, to around 371,000 TEU, in comparison with the previous year.

Last year the shipping group put four new owned ships into service: the "Cap Jackson" and the "Cap Jervis", two 4,600 TEU container vessels, were phased into the liner services from Asia via Mexico to South America West Coast. In the shape of the 7,100 TEU "Santa Clara", in October 2010 Hamburg Süd put the largest ever ship in its history into service. She is deployed in the trade between Asia and South America East Coast, as is the identical "Santa Isabel", which joined her at the end of the year.

Powerful cargo growth and the procurement of sufficient container capacity presented logistics with major challenges. In late 2009 Hamburg Süd was the first liner shipping company to begin ordering new containers in China. In all, 77,000 units were added. This increased the container pool by 17 per cent, to some 396,000 units as of 31 December 2010, with a disproportionate growth in reefer containers being recorded.

Source: Hamburg Süd