SMM Hamburg Opens the Door for Iran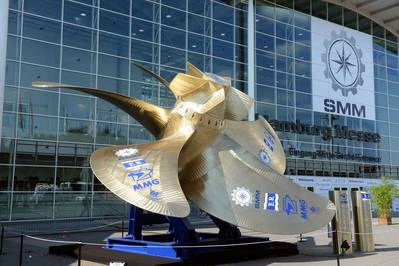 For the first time after the end of the trade sanctions, Iran will be represented by a national pavilion at international maritime trade fair SMM Hamburg.
"An industry fair is a great platform for building new relationships and getting to know each other,"
said Bernd Aufderheide
, President and CEO of Hamburg Messe und
Congress GmbH
. From September 6 to 9, 2016, Iran will showcase its capabilities in an area of its own. "We are setting the stage for the formation of new international business contacts, providing opportunities for fair participants to become acquainted with Iranian companies and potential customers."
A delegation from Hamburg Messe had visited Iran as early as December 2015 to attend Iranimex, the International Marine Industries Exhibition. On occasion of this visit, the group invited potential visitors, exhibitors and delegations to Germany. "Iranian businesses are showing a lively interest in
Europe
an products and German know-how," Aufderheide said.
"SMM is the maritime sector's most important platform for face-to-face networking and closing business deals," said Hauke Schlegel, chairman of the German engineering industry association VDMA. Following the lifting of the trade sanctions, the country is in great need of innovation and new ships, he added. "We see great potential for collaboration with Iran," Schlegel said. Since Iran continues to procure its shipbuilding equipment and technology from Germany and Europe, the country is of vital strategic importance to the supply industry, the VDMA chairman added.
For many years Iran was isolated from global trade. The first sanctions were imposed by the United States over three decades ago. Once the Iran nuclear deal framework agreement was reached, a large portion of the sanctions were lifted in January 2016. According to the national shipping company Islamic Republic of Iran Shipping Lines, Iran intends to invest roughly $120 billion by the year 2020 to rebuild its national fleet.