Topaz Buys Two Anchor Handling Vessels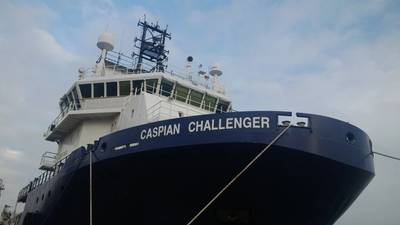 Topaz Energy and Marine has announced the acquisition of two large and modern Anchor Handling Towage and Supply Vessels (AHTSV) at a purchase price in excess of $100 million (USD).

The vessels, the Caspian Challenger and the Caspian Endeavour, are sister vessels built by Kleven Maritime in Norway in 2008 and 2009, respectively. The vessels are equipped with dynamic positioning DP2, automated safe anchor handing capabilities and are currently the most powerful vessels operating in the Caspian basin at 17,200 BHP and 190 metric tons bollard pull. The vessels are wholly capable of deep-water work anywhere in Topaz's current global footprint and in general.

The vessels have been operating as part of Topaz's Caspian fleet on a bareboat agreement and are currently serving a long-term contract with BP in Azerbaijan. The vessels are supporting operations in the Azerbaijan offshore fields of ACG and Shah Deniz performing specialty project work, major rig moves, anchor repositioning and logistical support.

René Kofod-Olsen, CEO, Topaz Energy and Marine, said, "These vessels have proved themselves as high performers in our fleet. As such, it was a logical extension of our agreement with the owner to preemptively exercise our purchase option and make them a permanent part of our fleet at what we believe is an attractive valuation. These vessels will benefit Topaz and our clients within and outside the Caspian Sea immensely."