Handy Sized OSV for Gulf Resource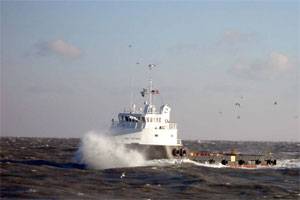 A new off shore supply vessel has joined the Gulf Resource Management Inc. (GRMI) fleet working the Gulf of Mexico. The 140 by 34 ft M/V Luke Thomas was designed at the owners direction with an accommodation space that extends the full 34 ft width of the hull to maximize crew comfort. In addition to a crew of four, the OSV can accommodate up to 16 offshore workers or 22 passengers. The vessels distinctive design is from Sterling Marine LLC and was built by Master Marine LLC in Bayou LaBatre Alabama.

The large, 88 by 30 ft, after deck has the capacity to carry 350 tons of cargo while the hull contains tankage for 53,000 gallons of fuel and 113,000 gallons of potable water. A pair of Cummins Tier 2 compliant QSK19-M3 engines each delivering 660 hp into Twin Disc gears provides propulsion power for 12 knots. Two Cummins 6BTA5.9(DM) powered generators supply the vessel with 88 kW of electrical power each. A fifth Cummins engine, a 340 hp QSL9, powers the bow thruster for the ABS DP 1 classed vessel. The Luke Thomas is also fitted with a 1,200 GPM Crane Denning fi-fi system.

The Luke Thomas is a virtual sister ship to the owners M/V Andrew Charles.