Knud E. Hansen A/S Behind New CONRO Design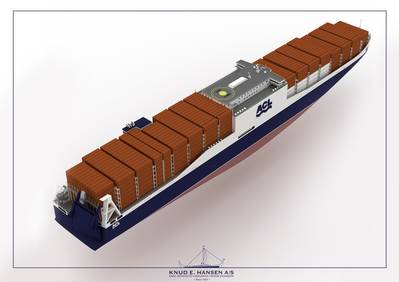 Danish Naval Architecture Firm KNUD E. HANSEN A/S behind the coordination for Basic Design of new Roll-on Roll-off/Containerships for Hudong-Zhonghua.

On the 10th of August 2012, the Atlantic Container Line (ACL) announced their contract with the Hudong-Zhonghua Shipbuilding (group) Co. Ltd. China for the construction of five new RoRo/Container (CONRO) vessels. The vessels will be the world's largest and most innovative CONRO vessels ever built. The five ship order will form the G4 (Generation 4) class and on delivery, will replace ACL's current fleet of G3 vessels that were built between 1984-85.

Responsible for the Basic Design of the new G4 CONRO vessels, Knud E. Hansen A/S will deliver to the shipbuilder a full Basic Design package, including: class drawings, general design of hull and outfitting, machinery plant arrangement, HVAC and electrical & automation design.

Over the past year, Knud E. Hansen A/S has worked closely with the Hudong-Zhonghua shipyard, as well as in close consultation with the ship-owner, to develop and optimize the design to the client's needs.

VESSEL DESCRIPTION

The vessel has been designed and will be constructed as a modern partly open top CONRO vessel carrying both containers and Roll-on Roll-off cargo. RoRo spaces are arranged around the mid-ship area and container bays arranged in both ends of the vessel. The vessels will have adjustable RoRo decks plus many other innovations, and have far better energy efficiency than their predecessors.

The vessel will have a transom stern, high efficiency rudder and single screw fixed pitch propeller directly driven by a slow speed diesel engine. The engine room will be located aft and all living quarters including the navigation bridge will be located mid-ship, on top of garage.

The vessel is intended to trade on international voyages and have been designed for transatlantic operation. The ship shall have good seagoing capability and reliability, good manoeuvrability at sea and in port and has been designed and optimized for efficient cargo turnaround in port.

MAIN DIMENSIONS

Length, overall (excluding stern ramp) Abt. 296.00 m
Length, between perpendiculars 287.00 m
Breadth, moulded 37.60 m
Depth, moulded (to No.3 deck) 14.00 m
(to No.4 deck) 22.95 m
Design draught, moulded 10.25 m
Deadweight at design draught 45,000 t
RoRo Capacity 28,900 m2
Container Capacity - Above hatch 2,686 TEU
- Below hatch 1,114 TEU
Total Capacity 3,800 TEU
Service speed (at 90% MCR) 18.0 knots with 15% sea margin
Prior to the contract signing, Knud E. Hansen A/S carried out a very thorough project study including contract design and calculations. Knud E. Hansen A/S also assisted Hudong-Zhonghua in coordinating with ACL during the contract phase, by providing technical expertise and advice.