New Container Ship Named by Hapag-Lloyd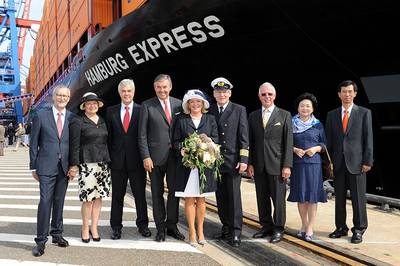 Hapag-Lloyd holds naming ceremony for 13,200 TEU flagship "Hamburg Express" at Hamburg Container Terminal (CTA).

Hapag-Lloyd has recently held a naming ceremony for the "Hamburg Express", first of ten new vessels in its new 13,200 TEU class.

The first vessel in the new "Hamburg Express" class will sail Loop 4 of the G6 Alliance, replacing a ship with approximately 8,000 TEU on this service. Loop 4 starts in Hamburg and calls at the ports of Rotterdam, Singapore, Yantian, Ningbo and Shanghai before returning via Yantian, Singapore and Southampton.

All ten newbuilds will sail under the German flag which forms part of a long tradition at the Group. The latest newbuilds, which are under construction at the Hyundai Heavy Industries shipyard in Ulsan, South Korea, are 366 metres long and 48 metres wide and have a maximum capacity of 142,092 tonnes with a draft of 15.5 metres. From keel to superstructure they measure a good 66 metres.

The main innovation in terms of environmental protection on board the "Hamburg Express" and its sister ships is the equipment for ballast water treatment manufactured by the Hamburg-based firm Mahle Industriefilter. The system cleans ships' ballast water without chemicals before it enters and before it leaves the ballast water tanks and uses filtration and UV light treatment to prevent organisms in the tanks from escaping unintentionally into foreign ecosystems.

The next two vessels from the series ordered in December 2010 will be delivered to Hapag-Lloyd in late September and mid-November, respectively, and will also be deployed in Loop 4. The remaining seven ships are due for delivery next year.