Hapag-Lloyd Increase Q3 2012 Profits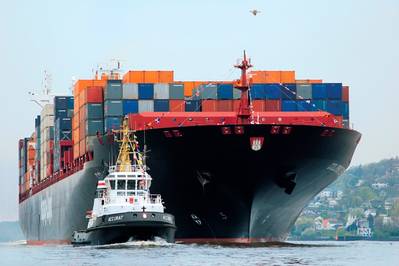 Container ship owners Hapag-Lloyd report increased revenue and profits in the third quarter 2012.

Hapag-Lloyd was able to increase freight rates, revenue and results in the third quarter, although the market environment remains challenging. The average freight rate rose year on year by 8% to USD 1,647/TEU. The rate increases initiated by Hapag-Lloyd in the first quarter and implemented in the second quarter had a tangible effect here.

Transport volume in the third quarter amounted to 1.28 million TEU and revenue of EUR 1.765 billion was 15% higher than in the same period last year.

EBITDA for the third quarter was EUR 164.1 million, which represents a year-on-year increase of 56%. Earnings before interest and taxes (adjusted EBIT) more than doubled to EUR 86.6 million (previous year: EUR 36.7 million). This more than made up for the operating losses incurred in the first half of the year. In the third quarter Hapag-Lloyd reported earnings after interest and taxes of EUR 45.6 million (previous year: EUR 9.6 million).

"Given the intense competition and gloomier economic prospects this is a good result. Unfortunately, given the absence of the peak season, we were not able to continue the upward trend in freight rates in the third quarter," said Michael Behrendt, Chairman of the Executive Board of Hapag-Lloyd.

Hapag-Lloyd invested EUR 692.5 million in ships and containers in the first nine months. After the delivery of two new vessels in the third quarter, Hapag-Lloyd's order book now comprises eight ships of 13,200 TEU each, of which one is due for delivery in November. The order book and planned investment in the container fleet are already fully financed. Hapag-Lloyd holds liquidity (including undrawn credit lines) of more than EUR 650 million. The Group's equity ratio amounts to 46.3% (as of 30.9).

The company consider that the fourth quarter will be dominated by the intensifying effects of the debt crisis in the eurozone. Liquidity constraints and declining consumer demand mean that retailers and manufacturers are not filling their warehouses but instead reducing their inventories. This noticeably reduces demand for transport services in these markets, especially in southern European countries.