GTC to Supply Hardware for New US Aircraft Carrier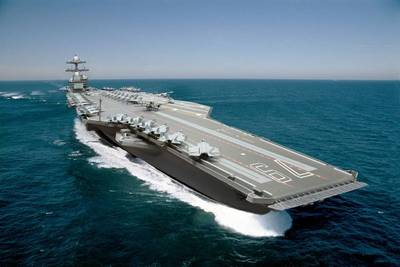 General Atomics Selects General Tool Company to provide EMALS and AAG for U.S. Navy Carrier CVN-79
General Tool Company (GTC) announced today it has been selected by General Atomics (GA) to deliver $48 million in hardware for the U.S. Navy's future aircraft carrier John F. Kennedy (CVN 79) under construction at Huntington Ingalls Industries' Newport News Shipbuilding division.
This procurement will include Critical Safety Items (CSI) such as the motor support structures, trough covers and other associated components. This award supports GA's full production contract for delivery of the Electromagnetic Aircraft Launch System (EMALS) and Advanced Arresting Gear (AAG) for installation on board CVN 79, the second of the U.S. Navy's Ford-class aircraft carriers. The first system was installed and is undergoing shipboard test and certification aboard Pre-Commissioning Unit Gerald R. Ford (CVN 78).
The Naval Air Systems Command (NAVAIR) awarded GA Electromagnetic Systems an initial sole-source contract for EMALS and AAG for CVN 79, which is scheduled for delivery in 2022.
EMALS is a complete launch system designed to replace the steam catapults currently in use on all Nimitz-class aircraft carriers. The electric motor-based AAG system provides for aircraft deceleration during aircraft carrier recovery operations. EMALS and AAG allow for the launch and arrestment of a broad range of aircraft, while providing higher reliability and safety margins.