Havyard Rings Bell on Group's Oslo Bourse Listing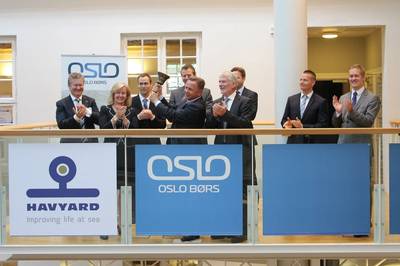 Norwegian shipbuilders, service providers & designers Havyard Group ASA inform that its listed stock has been traded on the Oslo Børs as President & CEO Geir Johan Bakke rang the ceremonial bell.

Per Sævik, CEO of the family company Havila Holding said in connection with the planning of the IPO: "Our family has broad interests in the offshore supply industry. In light of this, and because we see that we need to optimise the conditions for continued growth for Havyard Group, both on technology and ship equipment, we choose to reduce our ownership.

Havyard has a significant potential for growth, but the further development of the company requires more than we as a family company have the possibility to contribute". Sævik was clear that a reduction of ownership and the move to go public does not constitute a loss of faith in Havyard Group, quite the opposite.

Following the IPO and listing Havila Holding has approx. 63,5 % of the shares in Havyard Group ASA.

Havyard Group and President and CEO Geir Johan Bakke said: "In Havyard we have always had a long term perspective and worked focused towards building a competitive international ship technology group"

"Havila Holding has been a great owner that has supported and enabled us to develop from a local, Norwegian shipyard to an internationally renowned brand supplying ship equipment, ship design and ship building. As majority owner they will continue to influence us, but we have also got many new stake holders to relate to. This provides challenges and opportunities and we are look positive to continuing generating value for all of our stake holders, being our employees, customers or owners," an optimistic Geir Johan Bakke concluded.

Pictured: President & CEO Geir Johan Bakke rings the bell officially announcing the listing of Havyard Group ASA on Oslo Børs. Vegard Sævik from Havila Holding, Chairman of the board Bård Mikkelsen, CAO of Havyard Group Karl Eirik Frøysa Hansen and representatives from Oslo Børs and the managers of the IPO are in attendance.