China Meets Europe at DNV GL Headquarters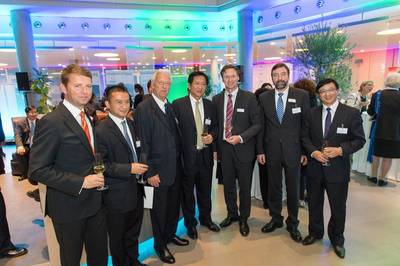 The future of EU–China relations, the country's investment in Europe as well as sustainable growth and environmental protection in the Chinese economy were just some of the topics on the agenda at the 6th Hamburg Summit last weekend. To foster new relationships and honor key players for their efforts in European–Chinese cooperation, classification society DNV GL hosted a dinner in its global maritime headquarters in Hamburg.

"We are committed to China and will continue to strengthen this commitment in the future. Our vision is to have a global impact for a safe and sustainable future. To achieve this, we need a global collaboration. That is why it is so encouraging to be a part of the Hamburg Summit," said Knut Ørbeck-Nilssen, President Maritime at DNV GL, when he addressed more than 250 dinner guests in the Hafencity.

A common focus on increasing sustainability by using greener energy sources has become an instrumental part of the cooperation between East and West. "Both China and Europe have been at the forefront of setting ambitious goals for renewable energy generation to power a low carbon future. Recently, China decided to make certification of new types of wind turbines mandatory. We have already established a partnership with a Chinese wind turbine blade manufacturer for certification of its products to improve the reliability and quality of blades produced in China," Ørbeck-Nilssen explained.

In the maritime sector, there are many joint projects underway as well. Amongst others, DNV GL has just signed an agreement with Sinopacific shipyard for a series of ground-breaking ethane-fuelled carriers, which emit significantly less carbon than diesel-powered vessels. Using liquefied natural gas (LNG) as shipfuel is about to become another integral part of China's low-carbon strategy, especially in short-sea and river shipping.

Even though balancing sustainable economic growth and environmental protection remains a challenge, Ørbeck-Nilssen stressed that this is achievable: "International regulations to set higher standards, incentives for the industry to become cleaner, a level playing field, as well as global collaboration will play a crucial role in tackling this issue," Ørbeck-Nilssen emphasized during a panel discussion with delegates from Ansteel Group, Minmetals Corporation, Siemens and Roland Berger Strategy Consultants.

"China and Europe have been seeking exchange and a fruitful relationship for several decades for now. Thanks to the active contribution of many organizations and interest groups the relations between China and Europe have never been closer", said conference Chairman Nikolaus W. Schües, the former President of Hamburg Chamber of Commerce and the owner of the German shipping company Reederei F. Laeisz. To award its contribution to creating a deeper mutual understanding between China and Europe, Schües presented the "China-Europe Friendship Award" to the China Federation of Industrial Economics (CFIE). The car manufacturer BMW received the "China-Europe Sustainability Award" for its outstanding efforts to follow ecological principles and successfully implemented sustainability in its business strategy and actions.