Heavyweight to China via Hamburg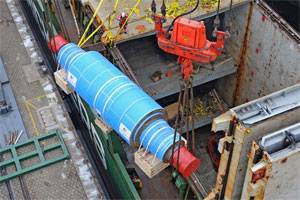 As a manufacturer of rollers, the Siegen-based Gontermann-Peipers company is a long-standing customer of the Rickmers Line. But it was not until this February that the weight of a roller topped the 250 ton limit.

Based in Hamburg, Rickmers is a specialist in the worldwide consignment of general and project cargo as well as heavy-lift freight. The company was responsible for sending the 254 ton roller on its way to China. The roller was loaded onto the Rickmers Hamburg at Hamburg's Wallmann Terminal. The ship is equipped with special cranes for handling heavy goods. The two most powerful can lift 320 tons each, or 640 tons when working together. The Rickmers Hamburg is one of ten ships of the Superflex Heavy MPC class which are used in the Round The World Pearl String Service, linking the Port of Hamburg with the Middle East, Southeast Asia, the Far East and North America.

The Port of Hamburg has numerous special terminals with facilities for handling what is known as conventional general cargo. These are goods which cannot be carried in containers, because they are oversize or for other reasons. In the year 2008, 2.8 million tons of such goods in all were handled at the port.

On the import side of the conventional general cargo category, fruit and above all Ro-Ro and project cargo are the most important goods handled. On the export side it is project cargo again and vehicles that claim the lion's share.