'Rena' Wreck Shrinks Under Resolve's Helicopter, Crane Barge Assault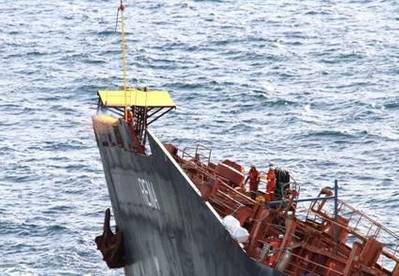 Following six weeks of intensive operations RESOLVE Salvage & Fire announce removal of 600 tons of steel from the bow section of the Rena wreck off Tauranga, New Zealand.

RESOLVE has been removing the wreck piece by piece using helicopters and a transport barge at a safe distance from the reef. Due to the precarious position of the wreck's bow on the Astrolabe Reef, and the nationwide concern in New Zealand over the potential for additional damage to the reef during salvage operations, RESOLVE's methodology using helicopters was chosen from a number of other proposals.

RESOLVE's Rena Salvage Master Frank Leckey said, "We now have our team of divers from the U.S. and our RMG 280 crane barge from Singapore for the underwater phase of wreck removal, now that the seas are expected to be calmer with the seasonal change. The crane barge can access the bow from deep water, far enough away to avoid the reef but close enough to lift the cut sections from the wreck onto a barge. The crane can remove much larger pieces than the helicopters, –up to 30 tons -- so we have helicopter, crane and underwater dive operations all underway simultaneously."

Strong winds and high seas up to six meters had interrupted the salvage operation on more than one occasion. According to Leckey, when seas are three meters or higher, the salvors must suspend operations to ensure the safety of the team. Leckey said, "The wreck lies at a 34-degree angle. Combine that with significant movement when the wind or seas pick up and you have a dangerous situation. We have a full time health and safety officer monitoring all aspects of the operation."

Resolve hopes to be able to reduce the wreck to a point where it is no longer visible on the water, by early 2013.

RESOLVE Salvage & Fire is the U.S. subsidiary of RESOLVE Marine Group, Inc., a worldwide leader in marine salvage and wreck removal, emergency response, firefighting, OPA-90 emergency response, maritime safety and simulation training and a wide range of marine services including naval architecture and marine engineering.