Hellespont Extends PSV Fleet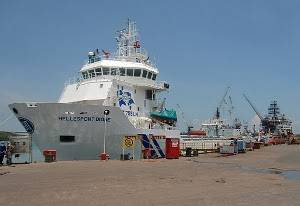 The Hamburg-based Hellespont group has extended its fleet of platform supply vessels with the delivery of the 3,250 dwt Hellespont Dione. Built at Drydocks World, Batam, the vessel is the fifth sister ship to join the Hellespont offshore fleet. The previous four vessels were all built in Cochin, India.

Phrixos Papachristidis, Hellespont group CEO, said, "These five vessels are a clear statement of our intention to expand in the offshore field. These versatile vessels are all on long term charter for seven years. Apart from our Hamburg-based ship management office we also have an offshore office in Singapore for the PSVs which is close to key charterers so we can build further relationships. That office is developing a cadre of experienced offshore crew directly employed by Hellespont. This gives us a good platform to expand the company to provide third party management to other operators in the offshore service vessel field. For the future, we are looking at opportunities and at the right time, and working with the right first class charterer, we will expand the fleet further."

The Hellespont Dione is a UT755LN type PSV with a lenth (o.a.) of 241.5 ft, beam 52.5 ft and dwt 3,250 tonnes.