Canadian Coast Guard Accepts New Hero-class Cutter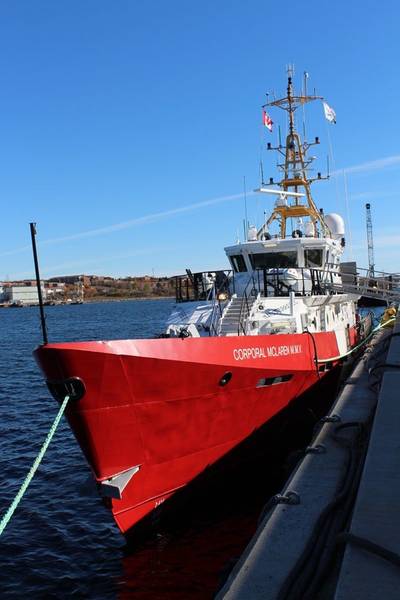 The Honourable Gail Shea, Minister of Fisheries and Oceans, has announced the acceptance of the sixth of the Canadian Coast Guard's new Hero Class vessels, the CCGS 'Corporal McLaren M.M.V.'
"Our Government is proud to accept the CCGS Corporal McLaren M.M.V. into the Canadian Coast Guard fleet," said Minister Shea. "This vessel will help sustain Canada's fisheries by enforcing fisheries regulations and providing a Canadian presence in the Atlantic region."
The CCGS Corporal McLaren M.M.V. is a Mid-Shore Patrol Vessel that will be based in Dartmouth, Nova Scotia. It was built in Halifax, Nova Scotia, by Irving Shipbuilding Inc. A formal naming and dedication ceremony will follow.

The Hero Class vessels are 43 metres in length with a displacement of 257 tonnes and a top speed of 25 knots.

The Hero Class vessels are named for decorated soldiers, veterans and police officers as well as employees of Fisheries and Oceans Canada and the Canadian Coast Guard. This vessel is named after Corporal Mark Robert McLaren M.M.V. of Peterborough, Ontario. On December 5, 2008, Corporal McLaren was killed in Kandahar Province, Afghanistan, during an ambush of his Canadian-Afghan patrol. During the ambush, Corporal McLaren managed to crawl through enemy fire to aid his team's seriously injured interpreter. He was awarded the Medal of Military Valour for his heroic actions.