Yanmar to Show New High-speed Diesel at Hamburg SMM Expo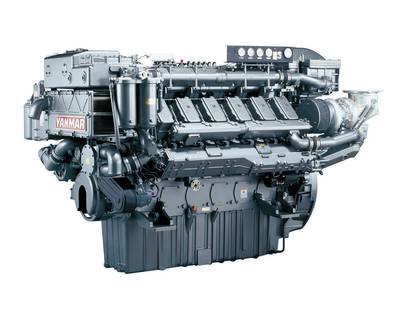 Yanmar Europe to display its new V-12 marine diesel engine (12AY) at upcoming SMM 2012 trade fair.
With easy installation and maintenance, the purpose-built 12AY is ideal for offshore support vessels, ferries, tugs, commercial fishing craft and other demanding applications, says Yanmar.
A key element of the improved performance and efficiency is a new staggered injection nozzle and patented combustion chamber design. which allows a very wide rpm range with low fuel consumption and emissions.
A new V-cylinder block configuration offers improved rigidity compared to previous models, with inspection ports providing easy access to connecting rod assemblies. A mechanical engine governor control and Yanmar's own fuel system components further enhance reliability.
The 40L, 12-cylinder turbocharged diesel engine is available in five power ratings across three models. The 12AYM-WST models are available at 1,200mhp (882 kW) at 1,850rpm and 1,400mhp (1,030 kW) at 1,900rpm. The 12AYM-WET is available at 1,550mhp (1,140 kW) at 1,840rpm and 1,659mhp (1,220 kW) at 1,900rpm. The 12AYM-WGT produces 1,822mhp (1,340 kW) at 1,940rpm.
Compliant with the latest IMO Tier II emissions regulations, the 12AY series has type approval by the six major classification societies.