High-Strength Prop to Power New Ship Through Arctic Ice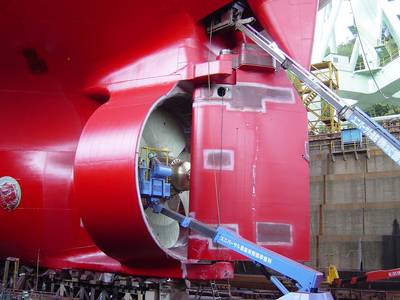 Rolls-Royce won a contract to supply a high-strength controllable pitch propeller for a new ice-breaking cargo ship which will transport nickel and copper concentrates from Canada, through the Arctic ice, to customers in Europe. Canada's Fednav Limited, one of the world's largest operators of high ice-class vessels, has agreed a long term transportation contract with Canadian Royalties Inc. for the shipping of concentrates from the Nunavik Nickel mine in northern Quebec.

The new ship, an ice-breaking bulk carrier with a deadweight of 25,000 tons, will be designed and built in Japan by Universal Shipbuilding Corporation. It will meet stringent design and operational requirements including a reinforced hull to allow it to proceed in continuous mode through level ice up to 1.5m thick.
Rolls-Royce will supply a 6.5m diameter nickel aluminium bronze Kamewa propeller for Fednav's new vessel, a propeller that will weigh 45 tons and be powered by a 21.7MW, (or 29,000 hp) diesel engine.

The propeller will be mounted inside a steel nozzle, to give protection from floating blocks of ice while increasing thrust as the ship pushes its way through the ice. When travelling through open water, the ship uses a third of its power to travel at 13 knots, but when breaking through thick ice, it needs all available power to maintain a speed of three knots.

Fednav already operates the world's most powerful ice-breaking bulk carrier Umiak I, which regularly has to contend with the most rugged Arctic conditions including hard packed shear ice and icebergs. Like the new ship, the Umiak I is fitted with a Rolls-Royce controllable pitch propeller that enables the captain to quickly change direction which is essential when ramming the ice is required.