Historic Mexican Ship Visits Port of LA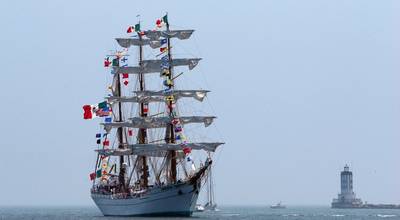 ARM Cuauhtémoc, a Mexican Navy barque, also known as the Ambassador and Gentleman of the Seas, will sail into the Port of Los Angeles next week and offer free public tours throughout the week on the L.A. Waterfront.

The historic vessel, with a crew of approximately 200 aboard, will arrive at Berth 46, also known as the Outer Harbor, on Monday, October 27 and be available for free public tours through Thursday, October 30.

As a sail training ship, Cuauhtémoc has operated for more than three decades and trained generations of officers, cadets and sailors in navigation and sailing maneuvers. The vessel last visited the Port of Los Angeles in 2005 as part of Tall Ships Festival L.A.

Cuauhtémoc is the last vessel of a series of four windjammers. Other ships include Gloria from Colombia, Guayas from Ecuador and Simón Bolívar from Venezuela. Cuauhtémoc bears the name of the last Aztec emperor who was imprisoned and executed in 1528 by order of Herman Cortés, the conquistador.

Cuauhtémoc is a Class A, three-masted barque built in Bilbao, Spain in 1982. It was the first ship of its kind in Mexico. The ship is 297 feet in length, and weighs 1,800 tons with a rig height of 168 feet. She carries 23 sails with a maximum sail area of .6 acres. The vessel's home port is in Acapulco, Mexico.