This Day in U.S. Naval History: May 1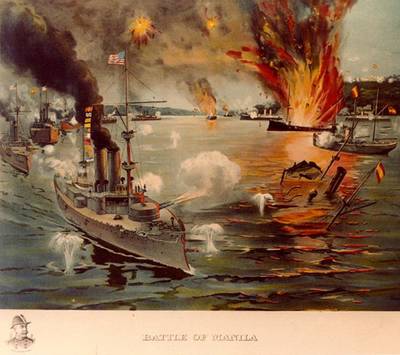 This Day in Naval History - May 1

1898 - Battle of Manila Bay, Adm Dewey defeats Spanish at Manila, Philippines

Before dawn on May 1, 1898, Commodore George Dewey's flagship Olympia led seven U.S. Navy cruisers and gunboats into Manila Bay. By 8 AM that morning Dewey's Asiatic Squadron had located and destroyed virtually the entire Spanish naval force in the Philippines. Damage to the American ships was negligible, and their crews suffered no fatalities and few injuries.

The Battle of Manila Bay was a singular demonstration of the daring and decisive application of sea power. In a few hours, Dewey had eliminated any threat that the Spanish Navy might pose to U.S. Far Eastern commerce and placed Spain's centuries-long rule of the Philippines in grave jeopardy. A few days later, with the capture of Cavite arsenal, he also gained a repair and refueling base, essential for maintaining his squadron under wartime conditions thousands of miles from home.

Other events on May 1.

1934 - LT Akers demonstrates blind landing system at College Park, MD in OJ-2 aircraft
1945 - VADM Barbey lands Australian troops on Tarakan Island, Borneo, supported by naval gunfire
1951 - USS Princeton aircraft attack Hwachon Dam using aerial torpedoes, only use of this weapon in Korean War
1980 - 11 Navy ships begin operations assisting Coast Guard in rescuing Cuban refugees fleeing Cuba in overcrowded boats

For more information about naval history, visit the Naval Historical Center Web site at www.history.navy.mil.