Humphree Interceptors for Seastreak's Newest Ferry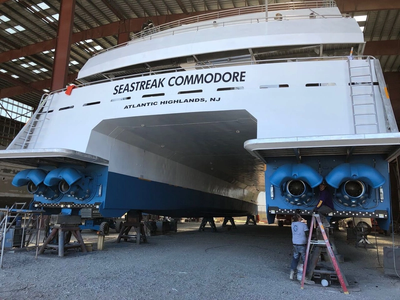 Interceptors and Active Ride Control supplied by Humphree USA will help deliver a smooth and stable ride for the newest addition to the Seastreak ferry fleet.
Seastreak Commodore, which was put into service this summer, is the biggest and fastest passenger ferry in the Seastreak fleet. The 150-foot catamaran can carry up to 600 passengers. The high-speed vessel makes daily commuter runs between Sandy Hook, N.J., and the East 35th Street terminal in New York City, with transit times of about 45 minutes. On weekends, the boat makes offshore trips to Martha's Vineyard and Nantucket.
The ferry was designed by Incat Crowther and built at the Gulf Craft shipyard in Franklin, La. The unique catamaran is powered by four MTU Tier 3 diesels with waterjet drives. The vessel has a top speed of 39 knots and normally cruises at 30+ knots.
For the large passenger catamaran Humphree designed a stabilization system consisting of eight HA750 interceptors, four on each hull. Each interceptor has retractable vertical blades, which deploy instantly to create lift that counteracts roll and pitch motions. The result is a steady, stable platform regardless of wind and wave conditions. The Humphree Active Ride Control also automatically optimizes the ferry's trim, list and heel angles, using inputs from GPS, gyro and accelerometers to measure 3D rates of turn and acceleration.
"Speed, safety and stability were key design criteria for Seastreak Commodore, which was built for long commuting routes across exposed waters, as well as open-ocean transits to Martha's Vineyard," said Brian Achille, Director of Engineering at Seastreak. "We have had good experience with the Humphree interceptors over the last five years on Seastreak Wall Street, and we are in the process of retrofitting them on other boats in our fleet, so we naturally turned to Humphree when specifying the stabilization platform for the new boat."
"Our captains are very pleased with the performance of the Humphree interceptors, especially in rough seas, minimizing roll and pitch and reducing passenger seasickness," he added.
"We work closely with naval architects and shipyards to provide a complete field-proven engineered stabilization solution that's ideal for passenger ferries and excursion boats," said Sean Berrie, CEO of Humphree USA. "Our systems are designed to ensure comfort and safety for passengers and crew while also contributing to improved high-speed performance and significant gains in fuel efficiency."