Hung Hua Construction of Taiwan Orders Third FCS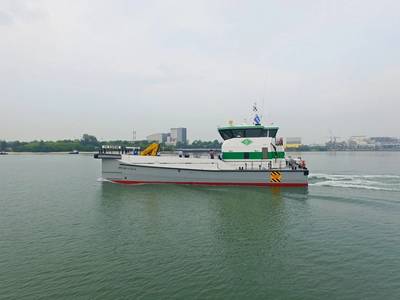 Hung Hua Construction of Taiwan has ordered a third Damen Fast Crew Supplier (FCS) to add to the two it ordered at the start of the year.
This latest vessel will be a Damen FCS 2610. The contract was signed by the two parties at the start of September and, with the vessel already on stock at Damen Shipyards Singapore, it will be delivered this month following finishing and some customization. It will be the company's first operational vessel.
The FCS 2610 is a best-selling design that proven itself time and again in the challenging waters of the North Sea as well as the Middle East and other locations around the world. A catamaran design featuring Damen's renowned Twin Axe bow, it is designed to carry up to twelve personnel plus crew, along with equipment and light cargo, at speeds of over 25 knots.
In early 2020, Hung Hua's FCS 2610 will be joined by two Damen FCS 2710 vessels ordered at the start of 2019, and Hung Hua has strong intentions to add another two FCS 2710 vessels to their fleet by the summer. Both the FCS 2610 and 2710 will be ideal for the waters off Taiwan, which can be challenging throughout the year.
All the vessels will be operated by Dong Fang Offshore (DFO), a fully owned subsidiary of Hung Hua Construction, and they have signed a memorandum of understanding with the UK-based High Speed Transfers Ltd (HST) to cooperate on the provision of crew transfer vessel (CTV) services for the offshore wind market in Asia. HST already operates a growing fleet of Damen FCS 2710 vessels and phase one of the agreement is the establishment of a comprehensive safety management system (SMS) for the vessels and initiating ongoing crew training in both Europe and Taiwan for the locally based crews.
Hung Hua Construction is well-known as Taiwan's largest dredging and nearshore construction company and it is now building a presence in the country's fast-growing offshore wind sector, developing a capability in fast crew transfer and other support services in the sector. It is already serving clients such as the Taiwan Power Company, a major force in the country's nascent offshore wind industry. This latest order adds capacity at short notice, enabling Hung Hua to fulfil the increasing number of charters that it expects, supporting offshore wind construction and operations and maintenance (O&M) projects off the coast of Taiwan.