Huntington Ingalls Industries Completes Sea Trials of Indiana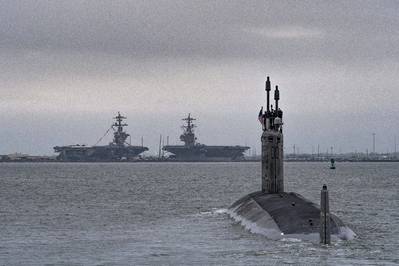 Huntington Ingalls Industries Newport News Shipbuilding division has successfully completed the initial sea trials on the newest Virginia-class submarine, Indiana (SSN 789).
The initial round of sea trials, known as alpha trials, provides an opportunity to test all systems and components. It includes submerging for the first time and high-speed maneuvers while on the surface and submerged.
"Sea trials is a significant milestone and the first major test of submarine's capabilities at sea," said Dave Bolcar, Newport News' vice president of submarine construction. "We are pleased with how Indiana performed and look forward to continuing our testing program before we deliver the boat to the U.S. Navy later this year."
Construction of
Indiana began
in 2012. The boat—the 16th Virginia-class submarine built as part of the teaming partnership with General Dynamics Electric Boat—was christened in April 2017.
Huntington Ingalls Industries is
America
's largest military shipbuilding company and a provider of professional services to partners in government and industry. For more than a century, HII's Newport News and Ingalls shipbuilding divisions in Virginia and
Mississippi have
built more ships in more ship classes than any other U.S. naval shipbuilder.