Hurricane Florence Barrels in on US East Coast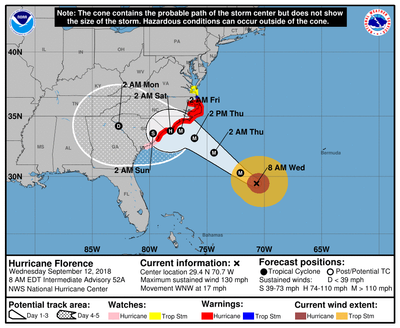 Hurricane Florence is forecast to be a major hurricane when it nears the U.S. coast on Thursday, bringing life-threatening storm surge and rainfall to portions of the Carolinas and Mid-Atlantic states, the U.S. National Hurricane Center (NHC) said in an advisory on Wednesday morning.
The extremely dangerous hurricane, currently a category 4, is located about 530 miles southeast of Cape Fear, N.C. packing maximum sustained winds of 130 miles per hour, it said in an advisory issued at 8 a.m.
"The center of Florence will move over the southwestern Atlantic Ocean between Bermuda and the Bahamas today, and approach the coast of North Carolina or South Carolina in the hurricane warning area on Thursday and Friday," the NHC said.
The U.S. Coast Guard said on Tuesday it has set Port Condition Yankee at ports throughout the Mid-Atlantic and is strongly cautioning the maritime community to remain vigilant and take the necessary precautions as the hurricane approaches.
The Captain of the Port for Wilmington and Morehead City, N.C., set Port Condition Yankee at 9 p.m., Tuesday, indicating that sustained gale-force winds are possible within 24 hours.
The Port of Hampton Roads COTP is scheduled to set Yankee just after midnight, at 12:01 a.m. The COTP of Baltimore remains at Port Condition Whiskey.
In Port Condition Yankee, the affected ports are closed to inbound vessel traffic greater than 500 gross tons. All vessels greater than 500 gross tons without permission to remain in port should have departed or should be prepared to depart prior to the setting of Port Condition Zulu.
Zulu is set approximately 12 hours in advance of anticipated gale-force winds, which would close the port and all port operations would be suspended.