Hurricane Dora Forms Off Mexico's Pacific Coast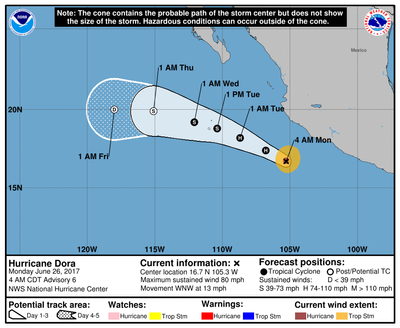 Hurricane Dora formed off the western coast of Mexico in the Pacific Ocean on Monday, but it was expected to slow and remain offshore, the U.S. National Hurricane Center (NHC) said.

Dora, the first hurricane to form in the Pacific so far this year, was carrying maximum sustained winds of about 80 miles per hour (130 km per hour) as it whirled about 170 miles (275 km) south-southwest of the port of Manzanillo, the center said.

Dora was slowing and was likely to see some strengthening on Monday before weakening on Tuesday, the NHC said. The storm was expected to drop 1 to 2 inches (25 to 50 mm) of rain on the coasts of the Mexican states of Guerrero and Michoacan.

(Reporting by Michael O'Boyle; Editing by Frances Kerry)