Hydrex Divers Repair Hulls in Europe & W. Africa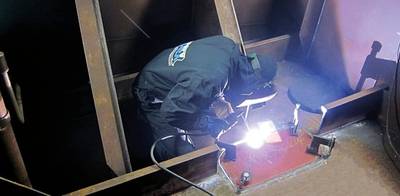 Hydrex teams of diver/technicians recently mobilized to vessels berthed in Zeebrugge (Belgium), Amsterdam (the Netherlands) and Douala (Cameroon).
The teams performed insert repairs on a roro vessel and two tankers, carried out according to the Hydrex class-approved procedure for the welding of inserts in a vessel's shell plating while afloat by using an external cofferdam.
Zeebrugge
A 560 mm crack in the bottom shell plating of a 203-meter roro vessel needed to be repaired during the ship's stop in Zeebrugge. The Hydrex team therefore carried out a detailed inspection of both the onboard as well as the water side of the shell plating, after which they installed a cofferdam over the affected area.

This allowed them to remove the frames covering the damage and cut away a 610 mm x 320 mm piece of the shell plating around the 560 mm crack. Next they positioned a new insert plate of the same dimensions and secured it with a full penetration weld. An independent tester then carried out ultrasonic testing and the repair was approved by the DNV surveyor who was present during the operation.
Amsterdam
A round insert with a diameter of 300 mm was installed on a 144-meter tanker to stop the leak in one of the ballast tanks of the vessel.

After the ship had been declared gas free, the Hydrex diver/technician team started with a detailed inspection of the damaged area, both underwater and inside the ballast tank. The team then installed a cofferdam over the crack and removed the damaged area.Next the diver/technicians prepared the edges of the hole and installed the new insert with a full penetration weld. This was done under the supervision of an LR surveyor.
Douala, Cameroon
Another Hydrex diver/technician team removed the cavitated area on the flat bottom area in the ballast tank of a 228-meter tanker.

A temporary doubler plate had been installed over the cavitation. The team therefore performed the underwater part of the inspection after which they installed the cofferdam. The diver/technicians then removed the doubler plate and inspected the onboard side of the cavitation damage. A 1100 mm x 580 mm area was cut away, removing the area that had been damaged the most. After the team installed and welded the new insert plate, they filled up three smaller cavitation spots around the insert. The BV surveyor approved the operation.

These permanent repairs allowed the owners of the vessels to continue their schedule without having to go to drydock and no further attention to the hull cracks will be needed.