Hydrasun, Parker Spearhead Hydrocarbon Leak Reduction Initiative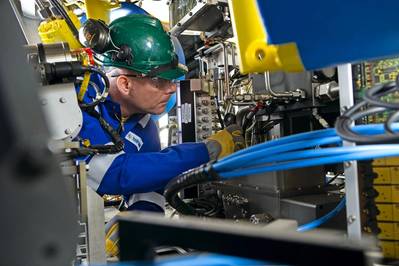 Hydrasun, a provider of integrated fluid transfer, power and control solutions, is teaming up with Parker Hannifin, a specialist in motion and control technologies, at Offshore Europe 2013 to showcase a range of process control instrumentation products and added value services, which support the industry's Hydrocarbon Leak Reduction initiative.

A practical demonstration area at the Parker Instrumentation technology center (stand X60), will offer hands-on educational opportunities for industry professionals to develop their understanding and knowledge of the latest innovative technologies in the area of process control instrumentation.

In addition, a program of seminars and training sessions will enable graduates and experienced personnel to gain further insight into how the latest thinking in product design and system hook-ups, supported by a number of specialist back-up support services, will enhance system integrity and reliability as the industry moves forward in further tackling Hydrocarbon Leak Reduction.

Hydrasun will support Parker with technical representatives on-hand to discuss the comprehensive range of Parker Instrumentation products such as valves, manifold and close coupled products with customers. Key personnel will also be hosting seminars throughout the four days of the show where the key theme will be how Hydrocarbon Leak Reduction (HCR) on an asset can be significantly improved through an integrated product and service approach to process control Instrumentation system design, build and ongoing maintenance. Topics will include leak reduction through introduction of new technologies and the implementation of a small bore tubing integrity management programs.

Craig Sangster, Hydrasun Sales & Marketing Director, said, "Although some reductions in HCR's have been achieved in the last few years, Small bore Tubing systems still account for a large percentage of unplanned HCR's on offshore and onshore assets.

"Through our well-established and close-working relationship with Parker Instrumentation, Hydrasun has implemented an alternative and innovative approach to the traditional methods associated with the design and management of instrumentation systems. We have developed a robust portfolio of the latest technologies, combining them with enhanced training, competency assessment and integrity management programs.

"Through this alternative methodology, leak paths are engineered out of systems and the likelihood of human factor issues contributing to HCR's is also greatly reduced. We are delighted to be supporting Parker at Offshore Europe 2013 and believe this provides us with the ideal platform to build momentum in this key area for industry over the next few years.