British Hydrographic Survey Ship Bound for Persian Gulf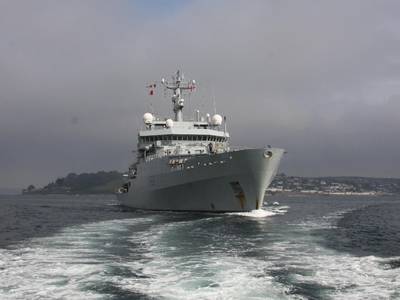 'HMS Enterprise' sails from Falmouth in Cornwall to the Middle East for nine months, primarily for military data gathering.

While the ship's primary tasking is military data-gathering she will also act as a deterrent to illegal activity by increasing security and preventing conflict.

The military data-gathering conducted will help to eliminate 'no-go areas' for British and allied warships, but crucially will also be used to update badly-needed charts so all mariners can navigate the area safely.

The ship sailed from Falmouth with a brand new survey motor boat named 'Spitfire', a nine-metre boat that effectively doubles the mother ship's ability to collect data.

HMS Enterprise is an Echo Class survey vessel based in Plymouth which was launched in 2003 (HMS Echo is also Plymouth-based and has recently returned after a long deployment in the same Middle East area).

The ship operates a watch-rotation system and has a crew of 75 men and women, with 50 on board at any one time. The watches are changed while the ship is still deployed, giving the crews a set time of duty and leave.