New Sonar Allows Hydrographic Surveying at Speed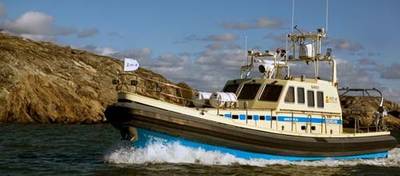 Sweden's MMT Group has purchased a new Kongsberg EM2040-04 dual TX high resolution multibeam system which has been installed on their survey vessel 'MV Seabeam'.
The new EM 2040-04 dual TX model, which consist of two TX-Transmitters and two RX-Receivers is designed for mapping in shallow areas at higher speed and will deliver high resolution, accurate survey data and great range performance (both depth and swath width) at the highest resolution available in the market, claims Kongsberg.

The EM 2040 multibeam echo sounder is the first system to bring all the advanced features of deep water multibeams to the near bottom sounding environment. The basic EM 2040 has four units, a transmit transducer, a receive transducer, a processing unit, and a workstation. Kongsberg add that new features enable the EM2040-04 dual TX to surpass the existing EM2040-04 dual RX performance.