New Finland Icebreaker Fitted with Navis Equipment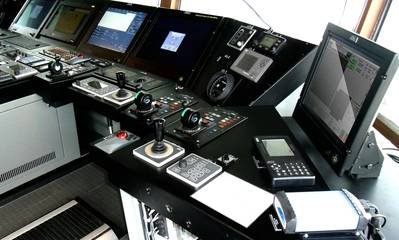 Navis Engineering says it has delivered its NavDP4000 system and Autopilot AP4000 for the new icebreaker 'Baltika'.

Navis explains that its dynamic positioning control systems have met performance expectations in the sea trials of the multifunctional icebreaking rescue and emergency vessel Baltika.The state-of-the-art icebreaker, commissioned in early April 2014, is fitted with the Nav DP4000 (DP System) and the Navis AP4000 Heading control system (autopilot).
Designed by Finnish company Aker Arctic, Baltika was built by the Arctech shipyard in Helsinki and its construction has involved a profound rethinking of icebreaking capability.

Navis adds that the vessel features an asymmetrical hull and an asymmetrical arrangement of its three azimuthing thrusters, enabling it to cut through ice at oblique angles of up to 45 degrees (forward and astern) in channels up to 50m wide – far wider than a conventional icebreaker of the same size. Baltika is also highly manoeuvrable and can transit pack ice up to 1.0 m thick at speed 3 knots.
The DP control system can be set to automatic and semi-automatic modes, with speed and drift angle predetermined, while its DP algorithms also take into account minimizing the effect of hull's asymmetry.

Sea trials confirmed that dynamic positioning control and heading control systems met their declared performance of being accurate at 6 Beaufort Sea State and wind of 14 m/s to a positioning accuracy of 1 m and a heading accuracy of 1 degree.

About the equipment suppliers
Navis Engineering Oy, founded in 1992, is a privately owned Finnish manufacturer of dynamic positioning and vessel motion control systems. Its headquarters is located in Vantaa, Finland, where production takes place, while it also has a R&D Centre in St Petersburg, Russia.