Artists Pay Tribute to Historic Russian Icebreaker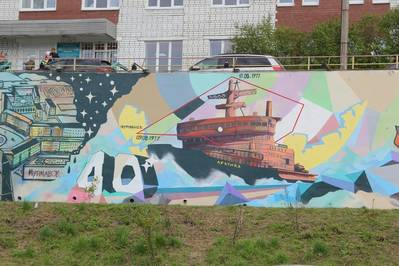 Graffiti depicting nuclear icebreaker Arktika appeared in Murmansk
In 1977 Russian nuclear icebreaker Arktika became the world's first surface ship to reach the North Pole. Now 40 years later, a depiction of the historic vessel is a main component of a graffiti style art installation in Murmansk, Russia.
Arktika was in service from 1975 to 2008 under the operation of Atomflot, who said six artists, four designers and one operator contributed to the creation of the 600 square meter art piece. The mural displays information about the history of Murmansk, cultural events, objects and the nature of the region.
"This year marks the 40th anniversary of the North Pole reaching the Arctic icebreaker," said Mustafa Kashka, Atomflot's First Deputy to Director General – Chief Engineer. "We are pleased that the young artists made the nuclear icebreaker the main theme of the composition. This is respect for the crew of the legendary icebreaker, who opened the world the opportunity to carry out year-round navigation on the shortest routes of the Arctic Ocean."
The first of the Arktika-class icebreakers, Arktika was built at the Baltic Shipyard in Leningrad from 1971 to 1975. The vessel was retired from service in 2008 after 33 years of reliable icebreaking, having sailed more than one million nautical miles.
Tonnage: 18,172 GRT
Displacement: 23,460 metric tons
Length: 147.9 m
Beam: 29.9 m
Draught: 11 m
Propulsion: Nuclear-turbo-electric; three shafts (56,000 kW combined)
Speed: 20.8 knots
Crew: 150