Ice-class Seismic Vessel Order for Kleven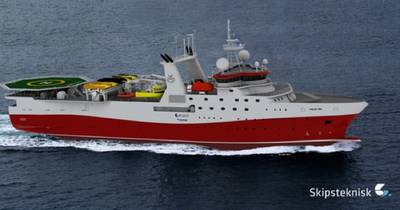 Kleven has signed a contract with GC Rieber Shipping for the building of an advanced seismic vessel.
The vessel is of type ST 324 XT from Skipsteknisk, and is to be delivered from Myklebust Verft in March 2015. Contract value is around 700 million NOK and there is an option for a second vessel.

The advanced seismic vessel will meet ice class ICE 1A*, providing a solid base for operations in Arctic areas.

A unique competence in operations in harsh environments has always been RC Rieber Shipping's trade mark. In order to offer our customers the best solutions for demanding operations in vulnerable waters, quality, safety and environment is on top of our agenda," said Irene Waage Basili, CEO of GC Rieber Shipping.

"We look forward to working together with GC Rieber Shipping on this complex project. GC Rieber is a solid company rich in tradition, and we are very pleased that they have chosen Kleven to build their new seismic vessel," said Ståle Rasmussen, CEO of Kleven.

Presently, Kleven has 15 vessels on order, at a total value of around 8.1 billion NOK.