ICTSI Posts Strong H1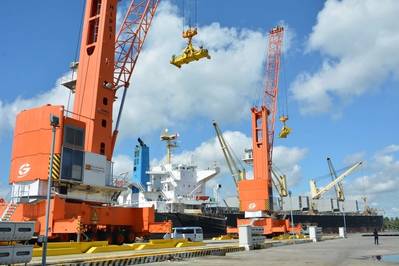 Philippines-based international container terminal operator ICTSI has reported a massive increase in profit and a substantial increase in revenues for the first half of 2019.

First half throughput rose 7% to 5.04 million teu and came on good revenues, leading to a 42% jump in net profit to $128.5 million, said a press release from the global port management company.

ICTSI attributed its profit growth during the six-month period to volume growth, tariff adjustments for certain services at multiple terminals, new contracts with shipping lines and services, as well as the continuing ramp-up of operations at new terminals.

Enrique K. Razon, Jr., President and Chairman of ICTSI said: "ICTSI's performance in the first half of 2019 has been very positive. The group's focus on generating high quality earnings from our ports, ramping up activities at our newer terminals and strong cost control has enabled us to continue to deliver on our strategic objectives."

Enrique said: "Our business remains relatively unscathed by current geopolitical headwinds, but we remain vigilant and continue to monitor the situation closely. ICTSI is a robust business, strongly placed for the second half and the Board remains confident of the future."

"Net income attributable to equity holders of US$128.5 million grew by 42 percent compared to the US$90.2 million earned in the same period last year mainly due to improved operating income contribution from the terminals in Iraq, Australia, Democratic Republic of Congo and Subic in the Philippines; the continuing ramp-up at the new terminals in Papua New Guinea; and a decrease in equity in net loss at Sociedad Puerto Industrial Aguadulce S.A. (SPIA), its joint venture container terminal project with PSA International Pte Ltd. (PSA) in Buenaventura, Colombia," said the release.