Chinese Ships Illegally Selling Oil to North Korea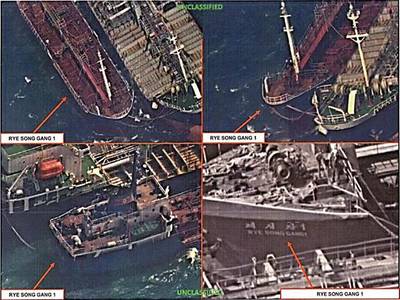 U.S. spy satellites have caught Chinese and North Korean ships illegally trading oil on the West Sea 30 times in the last three months, according to South Korean government sources.

The reported smuggling comes in the wake of United Nations sanctions banning ship-to-ship trades with North Korea on the high seas since September. But according a report from The Chosun Ilbo, satellites images have since captured more than two dozen illegal transfers and even the names of the ships side by side illegally trading oil.

"We need to focus on the fact that the illicit trade started after a U.N Security Council resolution in September drastically capped North Korea's imports of refined petroleum products," a South Korean government source told The Chosun Ilbo.

It is unclear whether the Chinese government is deliberately ignoring the reported smuggling, though it seems unlikely that it is unaware given the large volume.