Mayor of Herne Inaugurates the Hackforth Academy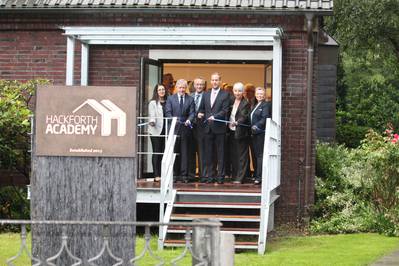 Workshop and seminar rooms have been developed on two floors of the former residence of the VULKAN owners.

On Wednesday, July 3, 2013, the Mayor of the city of Herne and the owners and Executive Management of the VULKAN Group cut the blue ribbon to inaugurate the Hackforth Academy, the new advanced training center. More than 30 guests from the sectors of politics, economics and science gathered to attend the festive inaugural celebrations.

The Hackforth Academy is the new internal advanced training institute of the VULKAN Group that is situated at the registered office of the Herne business. There are now modern teaching, tutorial and presentation rooms spread over the 370 m² former residence of the Hackforth family that is part of the VULKAN company premises. These new facilities are not only for the employees at the head office in Herne, but also for the many colleagues from the VULKAN Group's 18 subsidiary companies worldwide. This is where internal advanced training seminars, personnel development programs and customized qualification measures will be offered in the future for all specialized divisions of the VULKAN Group of companies.

In her speech for the occasion of the inauguration, Personnel Manager Margarete Aufermann explained how based on the original approach of optimising the corporate training, a large framework had quickly taken shape. Meanwhile, Horst Schiereck, the Mayor of the city of Herne, made reference to the organization's location in Wanne-Eickel in his speech. "This investment is a clear commitment to the corporate location". It was also emphasised that the desire to provide sound and well-established training as well as options for obtaining advanced qualifications in-house speaks volumes about a robust and stable organization.

At the end of the inaugural celebrations, the guests had the opportunity of taking a closer look at the rooms available on the premises. Meanwhile, the internal trainers at the VULKAN Academy explained the concept of the Academy and demonstrated the modern equipment of the teaching rooms to the interested guests.

vulcan.com