Incat LNG Ferry a World First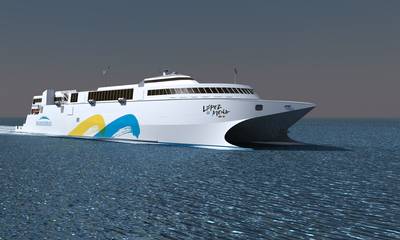 Australian shipbuilder Incat Tasmania Pty Ltd launch world's first high speed passenger Ro-Ro ship powered by LNG (Liquified Natural Gas).

The vessel will be the first installation of LNG powered dual fuel engines in an Incat high speed ferry, and the first high speed craft built under the HSC code to be powered by Gas Turbines using LNG as the primary fuel and marine distillate for standby and ancillary use. 


The new ship has been moored alongside the Incat shipyard wharf on Prince of Wales Bay to enable the final stage of construction and commissioning of machinery in the lead up to the sea trial period anticipated to be January 2013. 



The 99 metre LNG-fuelled ship was contracted by South American company Buquebus in November 2010, for operation on their River Plate service between Buenos Aires, Argentina and Montevideo in Uruguay.


The ship, hull 069, will be delivered to a repeat customer, Buquebus, who have clearly demonstrated their preference for Incat technology over a twenty year period. Hull 069 will be the eighth that Incat has built for Buquebus and their associated companies. It will be the largest catamaran they have operated and the fastest, environmentally cleanest, most efficient, high speed ferry in the world.

Hull 069, with capacity for almost 1000 passengers plus around 140 cars, has a projected lightship speed of 53 knots, and an operating speed of 50 knots. Crossing the River Plate (Rio de la Plata) at high speed will allow the ferry service to compete with airline traffic between Uruguay and Argentina.