Incumbent SECNAV Names Ship to Honor Former SECNAV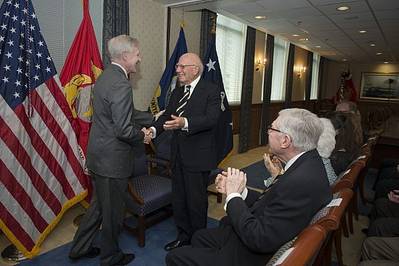 Secretary of the Navy Ray Mabus hosts ceremony to celebrate the recent announcement that the next 'Arleigh Burke-class' guided-missile destroyer will be named 'USS Paul Ignatius'.

"The Ignatius will be in our fleet for three to four decades. It will sail virtually every ocean of the world," said Mabus. "It will be a reminder of the experience, and the wisdom of Paul Ignatius.

"

The ceremony was held in the Pentagon and attended by former Navy Secretary Paul Ignatius, his family and current and former civilian and uniformed naval officials and guests. In addition to Ignatius, five former Secretaries and acting Secretaries of the Navy were in attendance to commemorate the occasion.

"I was really quite overwhelmed when Secretary Mabus told me that this ship was going to be named in my honor," said Ignatius. "The Navy meant a lot to me in my life."


The future USS Paul Ignatius (DDG 117) will be the first naval ship to bear this name. 
The warship will be 509 feet in length, have a waterline beam of 59 feet, displace approximately 9,496 tons, and make speed in excess of 30 knots.